Elementary my dear watson, elementary...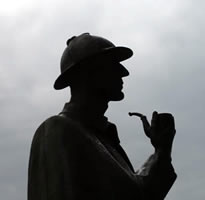 An abrupt departure can mean many things, but don't expect your employer to tell all. Still, you can at least get some clues. There's something disconcerting, a little Twilight-Zoneish, about stopping by a colleague's workstation to leave a message, or check on a meeting time, or just say hi and hear, "Uh, Charlie doesn't work here anymore."
What the heck? I talked to him yesterday, you think, as though you just heard that Charlie had expired during the night. In fact, the shock is often akin to getting the news that someone you know has died of a heart attack or in a traffic accident. What could have happened to Charlie? He looked fine the last time I saw him.
READ: When a co-worker vanishes... (Insert spooky music here)