Sorry, I only hire good-looking people.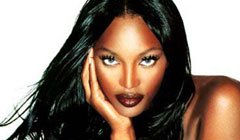 Hmmmm... Maybe this guy was just shopping for dating prospects and only preferred blondes to women who look like Naomi Campbell? (left) Check this out...
A former San Francisco cosmetics sales manager, who said she was punished for refusing an order from her boss to fire another woman and "get me somebody hot," can take her lawsuit to a jury, the state Supreme Court ruled today in a case that sets new standards for retaliation claims.
In a 4-2 ruling, the court said Elysa Yanowitz's allegations, if true, would show that L'Oreal illegally retaliated against her for opposing sex discrimination by a general manager at the giant cosmetics firm.
Yanowitz, an 18-year employee, was L'Oreal's regional sales manager and chief of marketing for Ralph Lauren fragrances in Western states when she tangled with general manager Jack Wiswall during a 1997 tour of a San Jose department store. According to her lawsuit, Wiswall told her that a dark-skinned sales clerk was "not good-looking enough," and directed her to fire the woman and "get me somebody hot."
During later visits, Yanowitz said, Wiswall kept asking her why the woman had not been fired, and at one point – when he passed by a young, attractive blonde woman – told Yanowitz, "Get me one that looks like that." She said she asked Wiswall for a reason to fire the woman, never got one, and ultimately refused, after learning that the woman was one of the top sellers of fragrances in the region.
(As Home Simpson would say, "Doh!")
Read: Fired cosmetics worker can sue, state high court rules